A Short Guide for Owners and Leaders
Part One of this Blog explained the risks your organization faces from a cyberattack, describing the most common objectives and the primary ways cybercrooks attack microbusinesses and similarly sized nonprofits. You learned that successful cyberattacks often involve tactics that are designed to deceive, along with sophisticated malicious software, and that potentially any device that connects to the internet, or to your local area network (LAN) could be an entry point for a cyberattack.
While the risks posed to your organization by cybercrooks are real, and no solution will be 100% effective, there are several things you can do to greatly limit the risk posed by cyberattacks. The objective of this blog and the next one is to describe a strategy you can use to secure your organization against a cyberattack, and help you mitigate the damage done even if an attack is successful.
There are many good educational resources available online that provide specific guidance to assist in understanding how to spot a cyberattack and more are being developed all the time. Examples include the resources offered by the U.S. Small Business Administration, the Federal Communications Commission and the Missouri Cyber Security Office as well as commercial software providers, such as Microsoft . In addition, resources published by PCI Securities Standards Council, the organization that works to secure the processing of credit and debit card payments, can help you identify ways to reduce this significant area of risk for many microbusinesses and nonprofits.
These tools and resources will be essential in implementing a comprehensive strategy for cybersecurity. However, implementing and using them effectively requires that you develop a comprehensive strategy that is tailored to address your organization's unique vulnerabilities. The next two parts will describe one process you can follow to develop an effective strategy. Doing this will help you use the available tools and resources more effectively and make the most of these resources. By taking this approach, you'll be able to better use the available tools and resources to address your organization's cyber security needs and risks.
Part 2 –Developing a Cybersecurity Plan for Your Organization – Beginning the Process
Given the number of cybercrooks out there, and the many strategies used to carry out an attack, the task of securing your organization may seem daunting, and it is easy to become overwhelmed. One way to keep yourself on track, is to break down the plan for securing your organization into three steps: Identify Critical Data; Assess Your Risk Level; and finally, Implement an Ongoing Cybersecurity Strategy.
Part 2 of this Blog addresses how to identify your organization's critical data and assess your primary risks and vulnerability to a cyberattack. In Part 3, will discuss how to use this information to implement an effective cybersecurity plan that is tailored to your organization.
Step one – Identify Critical Data
This step may seem unnecessary, but overlooking it could sabotage your efforts to create an effective plan or cause you to spend far more time than is warranted working on issues that really do not constitute a substantial threat to the organization. The reason is simple; in order to mount an effective defense against a cyberattack, you must first know what data and applications need to be secured. For this reason, your first step in developing an effective cybersecurity plan is to evaluate your situation with by asking two questions: First, what data and software are "mission critical" to the organization? and second, what "third-party data" do we store and retain that must be protected? Taking this this step is critical because leaders of microbusinesses and similarly sized nonprofits simply do not have the luxury of unlimited staff and resources. They must focus their cybersecurity efforts on what is most important based on their unique situation.
Identify "Mission Critical" Information and Software Applications
Identifying what is "mission critical" to your organization requires a little bit of imagination, as well as some investigation. A good way to start is to imagine what would happen if you discovered one morning that your entire organization had been subject to a successful ransomware attack. You have just grabbed a cup of coffee, turned on your desktop or laptop, and were faced with this screen: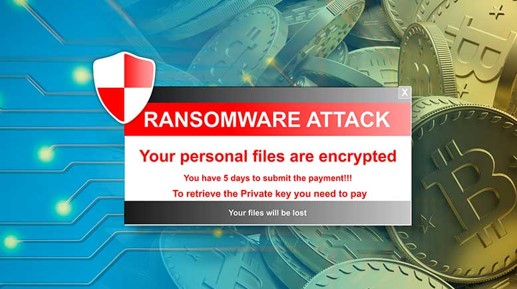 You open your smartphone and tablet and find that they have the same message! This means you can't access your documents, such as Word and Excel Templates, customer lists, records and forms. Access to everything saved to a computer or stored online has been blocked. You really panic when you attempt to access your company email account and discover that it has also been hacked and the password has been changed!
Now, ask yourself, what information (data) is critical to the operation of your organization over the next day, the next week, and the next month? What "software" (apps, programs and applications) do you use daily to generate forms, invoices and correspondence in your organization. This likely would include things like customer lists, templated, custom business software, and a variety of transaction records. You'll likely decide that some data and applications truly are "mission critical" (things you simply cannot operate at all without immediate access) while others you could work-around for at least some period of time.
One point to remember though, is that your list likely will be different than that which another organization would prepare. For example, an architect or engineer's ability to access work it performed for a client five or ten years ago, may be the most important competitive advantage they have to gain repeat business for improvements or modifications to a project. On the other hand, that same data maybe simply taking up space on another business' computer hard drive.
Identify protected third-party Information.
Once you have identified data and information critical to your organizations operation you then need to determine what data your organization maintains relates to third parties (customers, suppliers, employees and independent contractors). The previous blog described ways cybercrooks use personal information to compromise computer networks and rob innocent third parties. For that reason, you need to identify data you have retained that could be exploited in a cyberattack to injure these third parties.
This third-party data is often referred to as personally identifiable information (PII). The Department of Homeland Security defines PII as any information that permits the identity of an individual to be directly or indirectly inferred. Sensitive PII includes social security numbers, driver's license numbers, alien registration numbers, financial account and medical records, biometric data, or an individual's criminal record.
Of course, it is important to identify what sensitive PII your organization has to protect others against losses from a malicious cyberattack. However, It also is important for your organization to do this because most every state has enacted laws mandating disclosure to these third parties if your organization is the victim of a cyberattack that likely resulted in the disclosure of sensitive PII to a cybercrook. Missouri's statute can be found here.
In addition, there are laws and regulations that impose requirements on specific industries, such as finance and health care, and these will vary, but the risk to your organization is much the same: a failure to safeguard this third party sensitive PII may lead to its disclosure, and in turn to a successful attack directed against the third party. To protect these individuals, your organization will need to notify them of the attack. Depending on the amount of information involved, this could be quite expensive and time-consuming. It almost certainly will damage your organization's reputation.
While you may be able to quickly identify the type of sensitive PII your organization retains, determining where that information is located and stored can be a challenge. Most organizations have multiple devices (computers, tablets, servers, smartphones and others) that store the data locally. In addition, this information often also is stored remotely on devices maintained by third parties, in what has come to be known as "the Cloud." Since data backups to the Cloud can be initiated automatically, you may find that there are multiple copies of sensitive information stored in multiple locations. Depending on your organization's size – and most importantly whether it likely receives, maintains and stores sensitive PII, you may want to look into using specialized software that is designed to search out various locations to identify where your organization has stored sensitive PII, both on local devices and in the Cloud.
Step Two – Assess Your Risk Level
Once you have identified "mission critical" information and applications and the sensitive PII your organization holds, you can move to the second step of your cybersecurity strategy, assessing how well this information and applications are protected from a cyberattack. Since a cyberattack is most likely to be launched by someone who is accessing the internet, a good way to begin is by examining how your organization interacts with the internet.
Inventory internet-connected devices
One place to start this effort is to catalogue the devices that can access the internet. Of course, this will include desktops, laptops and tablets and smartphones owns and maintains. However, that may only be the first step, and it may not include your most vulnerable access points for a cyberattack. For example, you or your employees may access the organization's LAN remotely from a home computer, smart phone or tablet. You may also have granted customers, patrons or suppliers' special access your network resources. Each of these is a potential "point of access" to a cyberattack. As you develop an appropriate cybersecurity plan in Part 3 of this blog, you will need to take these devices and entry points into account as well as your LAN and the devices that are attached to it.
Addressing customer credit or debit card payment information
Most businesses and nonprofits must be able to seamlessly accept payments and/or donations with a credit or debit card. However, it is very important to understand what responsibilities your organization has assumed through its credit or debit card payment arrangements, and how that risk can vary depending on how the organization has structured its payment receipt system.
In 2004, the major payment card companies created the "Payment Card Industry — Data Security System"` – usually referred to as "PCI DSS." The PCI DSS establishes industry standards for businesses and organizations that accept, transmit or store payment card information. This is not a federal or state law although as previously discussed, separate federal or state laws or regulations may require disclosure and create liability issues for your organization if PII is compromised in a cyberattack. Data Security Standards for PCI compliance vary depending on the payment brand (Visa, Mastercard, American Express, etc.) and the number and size of credit or payment card transactions. An organization that is not PCI compliant may lose the right to accept credit or payment card payments and, more importantly, face very substantial fines and penalties.
That said, most PCI compliance obligations are triggered only if the organization handles, transmits or stores credit or debit card information its network. Fortunately, most small organizations can avoid many of the ongoing requirements to remain PCI compliant, and still offer customers or donors the convenience of using credit and debit cards by using a payment card processor company. In a payment transaction these companies act as an "intermediary." Once the transaction is initiated, the exchange of protected information (PII) is conducted on the processor's network rather than the organization. The processor takes the payment card information directly from the customer and credits the organization's account with the appropriate payment. Since the processor's network handles the mechanics of the payment processing and stores that information as needed, the organization does not handle, transmit or store any protected data relevant to the transaction.
Of course, if your organization collects or stores payment data by some other means, such as requesting it directly from the customer or donor, that short-circuits the protection afforded by using the payment processor. It then must handle and secure the sensitive PII in accordance with the PCI DSS standards, and it potentially could be subject to significant economic fines and penalties if the sensitive PII it has stored is compromised through a cyberattack. For these reasons, organizations will want to be extremely cautious about collecting and storing any payment card information.
Cybersecurity and your organization's website
Your organization almost certainly has some sort of "online presence" whether it is through a commercial website provider or just a page on a social media site. As with other aspects of cyber security, your organization's risk of a cyberattack will vary, and will depend in large part on the level of access offered to the public through the website. Additionally, in cases of a ransomware attack, the extent to which your organization relies on its website to maintain day-to-day operations will be important in assessing the extent to which the cybersecurity plan for the organization needs to focus on website cybersecurity. As a general rule, if your organization has a website, you'll want to spend time understanding the cybersecurity risks associated with the site, even if you rely on a third party to prepare and maintain it for your organization.
The risk of a successful cyberattack through your website can depends in part on the software and cybersecurity tools used by the company that hosts that site for your organizations. Websites that regularly update security software are at less risk. However, if your website permits customers or users to upload any files or documents onto the site, you will need to be particularly diligent to ensure that those files are screened for malware, as this feature presents the potential for any cybercrook to launch a malicious attack on the website. Additionally, if your website provider provides options to accept payment cards you'll need to assess whether it is PCI DSS compliant.
The Final Step
Now that you have learned what a cyberattack is, how it is implemented, determined what data and applications your organization needs to protect, and reviewed your organization's unique risk profile, you are ready to focus on ways to protect your organization. This is the focus of Part 3 of this Blog.