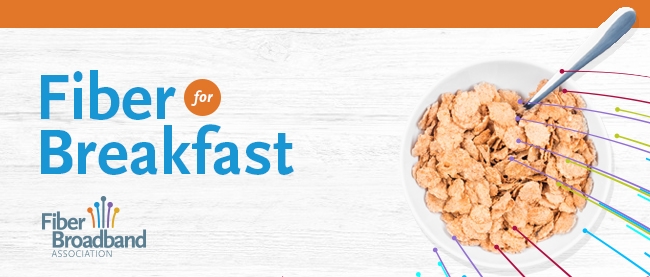 The Fiber Broadband Association is proud to announce its weekly live video series, Fiber for Breakfast.
Fiber for Breakfast is a weekly 30-minute live video discussion hosted by our President and CEO, Gary Bolton, and featuring industry thought leaders on current topics that explore fiber as the critical infrastructure for 21st century communications as well as other connectivity and workplace issues presented during these challenging times.
Fiber for Breakfast will take place every Wednesday at 10am ET. Below are the registration links and recordings for each episode. For questions about Fiber for Breakfast or if you are interested in supporting and sponsoring the series, please contact Jennifer Vassil at jvassil@fiberbroadband.org.
Attention loyal Fiber for Breakfast audience! We are pleased to offer our viewers the opportunity to opt-in for registration for the remainder of the 2022 season of Fiber for Breakfast. Click here and you will be automatically added to the registration list ahead of each episode.
Missed an episode? Catch up with the Fiber for Breakfast podcast. Click here to listen and follow the podcast.